Description
Mist King Chameleon Mister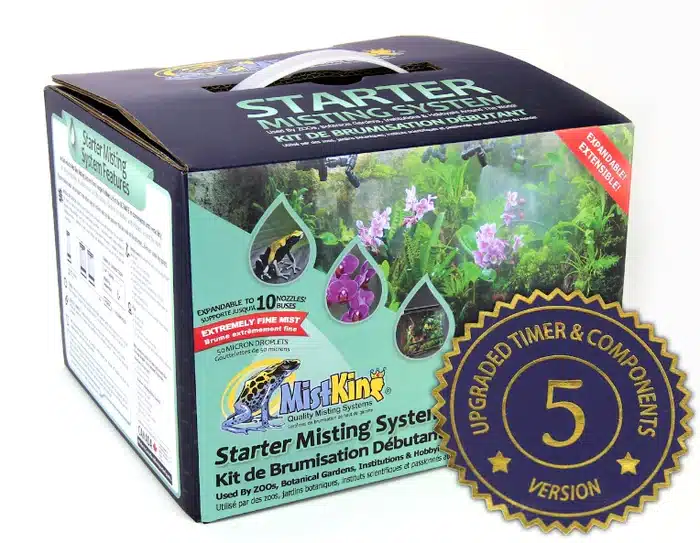 Chameleon Mister
Starter System can silently run 1 nozzle or as many as 10 nozzles. Pump can run dry with no damage, and nozzles are equipped with a check-valve which greatly reduces the drip after misting is done.
These misting systems have been applied in a multitude of applications, from patio cooling, reptile, amphibian terrarium/vivarium enclosures, growing shelves with orchids or exotic plants, hobby greenhouses, and even grocery and industrial applications. Major zoos, botanical gardens, educational institutions, corporations and individual hobbyists are using MistKing systems throughout the world.
Chameleon Misting System
Improved timer electronics. Timers now have a 3 times higher electronics rating which better equips the timers for dealing with power outages and high inductive demand of MistKing pumps. This should improve system failure rates and add to MistKing reliability.
Starter misting system comes with a default ST-24 timer, but can be controlled  by either a repeat cycle timer or the hygrostat. You can select the controller on the right that best suits your needs.  To learn more about how each timer works, please visit the timer page
Reservoir Bulkhead has been custom designed from ground up and is exclusive to MistKing. With its dense metal thread you can now tighten with all required force without worry of stripping.  We have even tested the bulkheads to squeeze a bucket without an o-ring and achieved perfect seal.  Nevertheless use an o-ring for added security.
We now also include a small reservoir filter. No need to worry that a floating debris will be sucked into the system and clog your nozzle. We love color black in our systems, however the filter is white to easier spot when it needs to be rinsed.
We do not ship reservoir buckets with our kits. No need to add to the shipping cost for something that can be picked up locally for a few dollars. Our misting systems come with instructions and push-in bulkhead fitting to convert any bucket or container into a reservoir. Plastic pails cost from $3-$8 retail depending on size.
Chameleon Mister System 
24V DC misting pump, capable of running up to 10 nozzles. Pump is very robust and can run dry! This pump has been extensively tested for a long time in the field and in the factory and by us personally. It has extremely low failure rates and it simply WORKS! Custom manufactured for MistKing.com and is unique to us. Pump is adapted for 1/4″ tubing and includes vibration dampening rubber feet.
Pump power adapter. (cUL listed)
1 Value L misting assembly. Assembly is tested and it includes our super low flow check-valved spray tip, custom crafted in black with an average droplets size of ~50 microns. Check-valved tips greatly reduces the post mist drip. These nozzles can be adjusted and positioned in any direction. Can be securely fastened to any surface up to 0.625″ (5/8″) or 1.5 cm thick. This misting assembly is patented at USPTO.
Reservoir bulkhead with o-ring and plug.
15 feet of 1/4″ black opaque tubing
New Digital Seconds Timer ST-24 with improved electronics.
Reservoir filter
5 tubing clips with screws
Reference manual
By default this system comes with ST-24 Seconds Timer.
ZipDrip Valve with 1/4″ fittings – nozzle tips already greatly reduce dripping, but ZipDrip eliminates post mist drip all together, resulting in ZERO, (Zip) Drip! See it in action here.
Warranty Information:
Standard (included):  2 years pump.  1 year parts.
Extended (optional): 4 years pump. 2 years parts.
Note: Nozzle tips warrantied only for purchase, due to the fact these can clog due to user error and poor water quality.